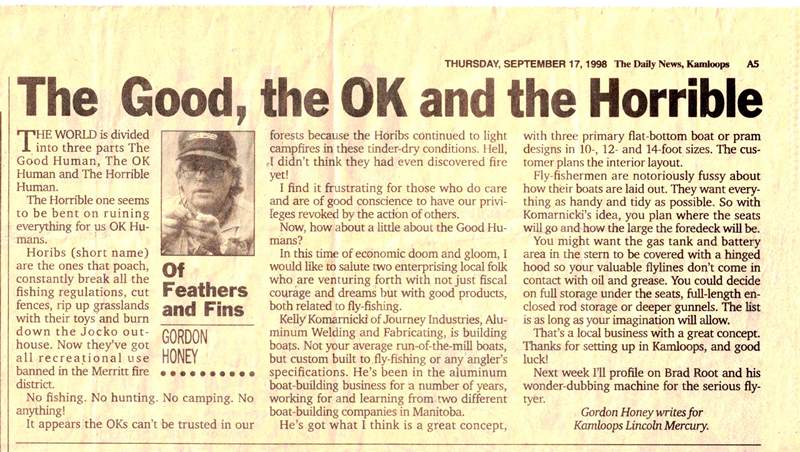 2018 is quickly coming to an end, and with it the time remaining to accomplish all the little things that I'd been putting off till later.  And I'm not happy about it, cause there's not much later left!  So with that I resigned myself to getting something done today. Number one on the list; shop office clean out.
I wasn't very far into the process when I came across this Kamloops Daily News article by Gordon Honey. For those of you that have not heard of Gordon Honey, he was a local fly fishing pioneer and a huge contributor to putting Kamloops on the map in that regard. Twenty years ago Journey Industries was a topic of his popular "of Feathers & Fins" news paper column.  Seemed like a good enough reason to stop what I was doing and reflect over the last two decades …
It was 1994 when I arrived in Kamloops, and it certainly didn't take me long to realize that fishing was an important part of the landscape.  I don't think a week went by where someone didn't come in to the shop to discuss the prospect of having me whip them up a fishing punt.  The more people that inquired the more I started to think about adding boats to the menu. As Mr. Honey mentions in his article, I had acquired the skills and knowledge necessary to build quality boats during my working experience prior to relocating to Kamloops, so it wasn't a hard decision to give it a go.     
The plan was to start with three boat sizes and offer custom interior designs. As time went on we focused in on two boat sizes and optimized interior design towards the common aspects important to anglers.  At about 5 years in we knew we had a winner  as word of mouth alone was keeping us pretty busy in the way of boats.
And so it went for twentyish years … aluminum welding and fabricating projects with a few boats thrown in.  Until early 2018 when we decided to see what this intraweb thing was all about and started to spread the word a bit ourselves.  Suffice to say things are still progressing nicely but with a bit of a flip. A better description today might be … all welded aluminum fly fishing punts with some welding and fabrication projects thrown in. 
I wish Mr. Honey was still around so I could thank him for the faith that he had in our flat bottom all welded boat idea twenty years ago.  His opinion that there was a fit in the BC Interior for a product like ours, and that we had what it took to meet the discerning needs of the end user, went a long way in motivating us to develop, build and continually fine tune our boats. 
I didn't get much cleaning done in the office today but it doesn't matter. I'm glad I found the article and took the opportunity to reminisce over the blur that was the last twenty years.  Looking forward to the next twenty! 
Tight lines and happy holidays from the gang at Journey Boats! 😀