Journey Boat Wheel Kits:
Rear Plug In Wheel Kit …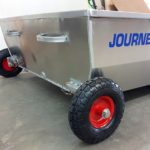 A Rear Plug In Wheel Kit allows the user to wheel the boat,  right side up, from your mode of transportation to the waters edge. The kit includes 11″ wheels & utilizes quick release pins for easy installation & removal.  Receivers are welded to the transom and the price includes all hardware & installation!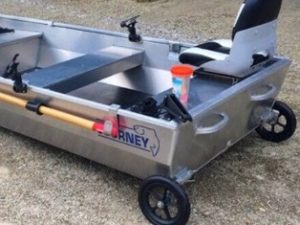 We have defaulted to no flat (non pneumatic) wheels on our plugin wheel kits. Pneumatic wheels are still available for those that prefer them by leaving a note in the comments section when submitting your boat/accessories quote. 😉
* check out our plug in transducer mount built to fit the plug in wheel receiver! 
After Market Rear Plugin Wheel Kit Applications available …
---
Front 360 Wheel Kit …….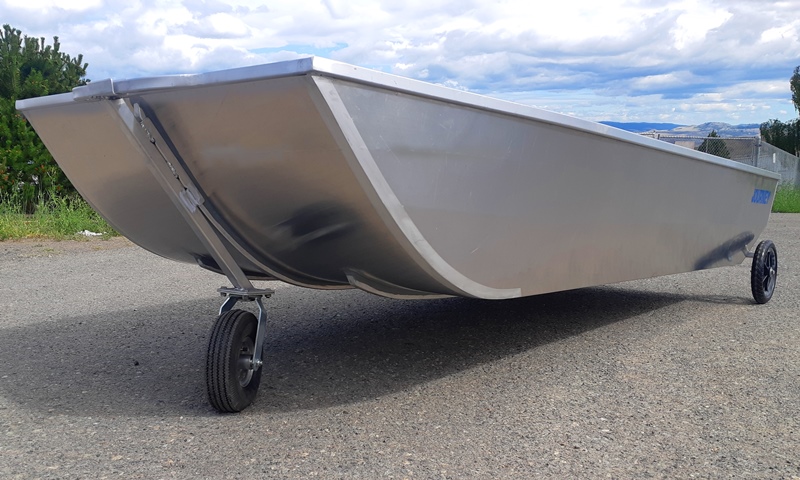 We heard there might be some interest in a simple to apply and use front wheel kit for our Journey Boats, so we put on our thinking caps and ……
---
– Super simple install & removal (no tools/hardware required) –
– 360 degree turning radius –
– Fits all Journey boats –
The Journey Boat Front 360 Wheel Kit is designed to work in conjunction with either of our Rear Mount Wheel Kits to allow for one person easy maneuvering of the boat. The kit is very easy to mount (no bolts/pins necessary), fits all of our Journey Boats (with or without trailer hoop), and the 10″ pneumatic 360 degree swivel front wheel allows for a tight turning radius to navigate the trickiest of routes to the waters edge or storage destinations.
---
---
| Flat Bottom Boats | Jon Boats | Prams | Fly Fishing Punts | Fly Fishers |
… whatever you call them, if you're in the market for a quality fishing platform do your self a favour and check out Journey Boats, Made in Kamloops British Columbia, Canada, All Aluminum, All Welded, Super Stable, Flat Bottom Jon Boats! 🙂