Pyramid Anchors
Coated Lead | Superior Holding Power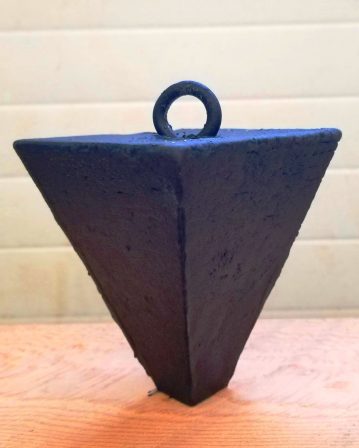 Pyramid anchors have become the popular choice for stillwater fly fishing … and for good reason! Maintaining your position when you're on the fish is critical to being able to repeat successes and the pyramid shape has quickly proven to offer superior holding power in anchors of the same weight.  As an added bonus theses particular pyramid anchors are coated to minimize lead exposure.
We've got 12#ers, 15#ers & 18#ers in stock but can supply them lighter or heavier if you have the need so just ask!
If you are ordering with a Journey boat we recommend 15#ers for the 9-6 and 18#ers for the 11-6 … please select your choice on the Journey Boat & Accessories Quote Page!
If you would like to order for another application you can reach us with your pyramid anchor requirements here! 🙂
---
---
| Flat Bottom Boats | Jon Boats | Prams | Fly Fishing Punts | Fly Fishers |
… whatever you call them, if you're in the market for a quality fishing platform do your self a favour and check out Journey Boats, Made in Kamloops British Columbia, Canada, All Aluminum, All Welded, Super Stable, Flat Bottom Jon Boats! 🙂