Every year around this time anglers, us included, start spinning their wheels in anticipation of the up coming open water fishing season.  Thoughts of new rods, reels, flies, and, for many, a new or upgraded boat. Judging from the number of telephone calls and emails we are receiving the "get ready for ice off" frenzy has truly begun! We also see it on the fishing forums and social media pages where posts asking for opinions on everything fishing related are popping up almost daily.
With respect to Journey Boats, one of the most common questions we get is on how it compares to the Spratley … which is understandable as it is the only other, as far as we know,  .080 welded aluminum flat bottom boat readily available in our area.  Now we certainly don't mind the telephone calls and the  emails so please keep them coming, but we thought we'd provide a bit of  a comparison chart to help answer some of the  basic similarities and difference between the two crafts.
This is not a "which boat is better" chart but simply a specs chart to help anglers visualize a packet of comparable information all in one place. As you can see the boats are quite similar and, although we are biased towards the Journey, you really can't go wrong with either …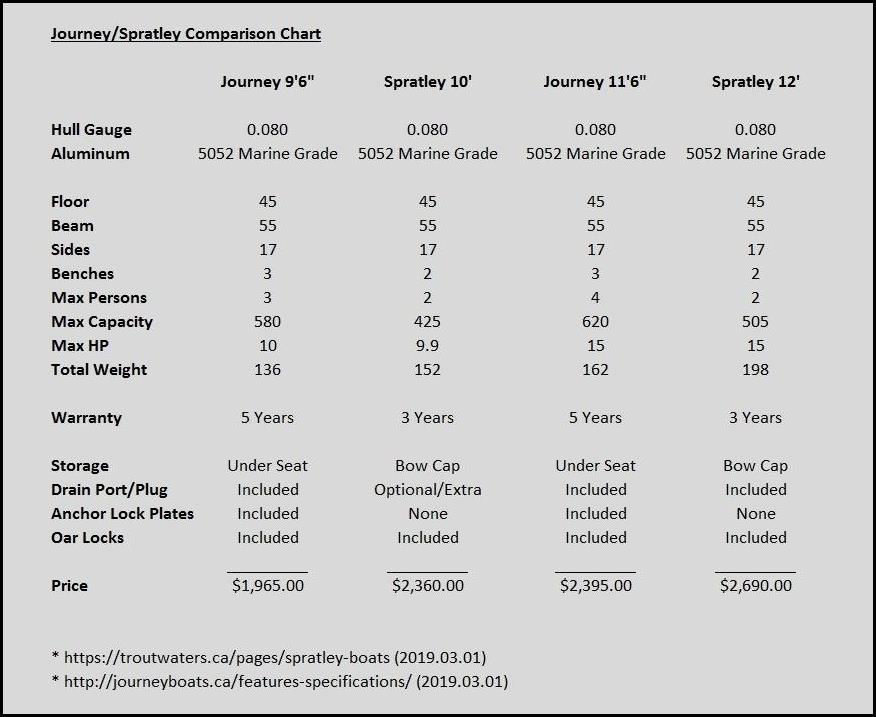 *The information contained in this chart was taken from a social media fishing page with permission from the original poster. The details were checked against the two websites sited and found to be accurate at that time. Please note that the information is subject to change at any time solely at the discretion of the originating parties and is therefore in no way a guarantee of price or build specs going forward. 
Life is a Journey … get out there and enjoy it!   🙂